Sustainability at the Core
THE HYBRID STORY

Locally Made
Bamboo

Pocket Coil Support
Latex Comfort
DESIGN MOBEL HYBRID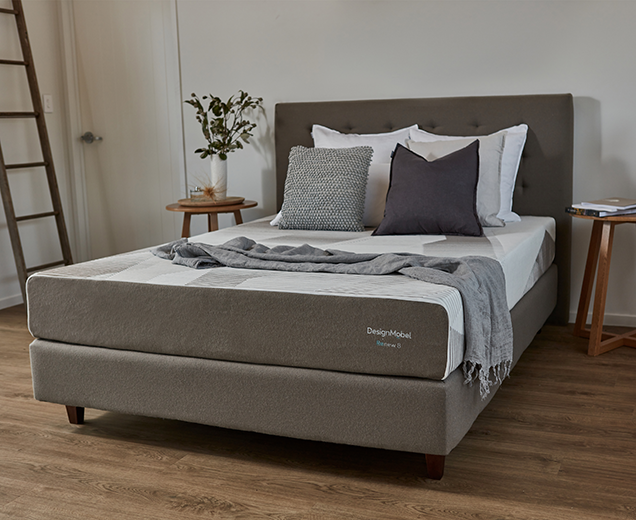 Introducing Hybrid
Your Hybrid sleep combines core support, natural latex, bamboo & pure New Zealand wool. Feel good when you choose Hybrid. It's the conscious bed choice when you want quality sleep to have minimal impact on the planet.
Coil Support Core

New Zealand made independent pocket springs are not only the perfect support core in your Hybrid mattress, they'll help minimise partner disturbance while you sleep.
Sleep Soundly

Soft breathable bamboo is woven into the cover on this range. Bamboo is also naturally antibacterial and mould resistant, making it perfect for a healthier sleep and suitable for allergy sufferers.
Sleep Soundly

We took the chance to include the soft fibre SEAQUAL into our fabrics for Hybrid. SEAQUAL yarn is almost identical to virgin polyester but includes recycled plastics rescued from the worlds oceans.
Clean & Fresh

We've used a layer of sustainable natural latex for comfort but it also helps keeps your mattress fresh. Latex is naturally hypoallergenic, antibacterial and resistant to dust mites, mould & mildew.
Find a Store
Frequently Asked Questions
What size beds is Design Mobel available in?

Long Single 91 cm X 203cm
King Single 107cm X 203cm
Queen 153cm X 203cm
King 167cm X 203cm
Super King 183cm X 203cm

When should I replace my mattress?

In general, we recommend replacing your mattress every 8-10 years. A Design Mobel mattress may last a lot longer than that, but chances are your body and your sleep requirements will have changed. If you find you're waking up feeling tired, have trouble getting to sleep or notice that movement from your partner is causing you to wake, then it could be time to look at a new bed that better fits your specific needs.

Why do I need to rotate my mattress?

We recommend rotating your mattress regularly to help ensure even wear across the mattress. As a rule of thumb you should rotate your mattress every two weeks for the first four months, then once every three months. Rotating your mattress regularly helps ensure minimise natural dipping that can occur in some mattresses as the mattress wears in.
Retailer Range Guide
Your Design Mobel Hybrid is adjustable-friendly and has it's own unique model name depending on which of our stockists you buy from. We've included a handy reference guide below for you to find the right bed to suit you, then all you need to do is go into store and try it out.
BedsRus

In store for BedsRus, look our for our Design Mobel Hybrid as Renew 3 (firm) and Renew 5 (medium) and Renew 8 (plush).

Bedpost

At Bedpost retailers, you will find Design Mobel Hybrid is available as Reactivate in three different feels: Firm, medium and plush.

Independent Retailers

In our independent retail stores with the Design Mobel Pure range you will find it as Refresh and available in a medium/firm feel and a medium/plush feel.
Experience the Design Mobel Range